VODAFONE_TOGETHER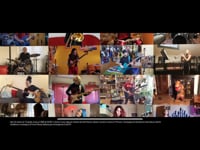 Agency: UTOPIA
Prod Company: AKITA FILM
Post Production: YOU_ARE
This VODAFONE together commercial has been created in compliance with the latest ministerial decree and following the hygienic recommendations of the Ministry of Health.
For the making of the film no actor, no director and no person of the production has left home.
Everything was made through the Vodafone network: casting, shooting, editing and post production.
In order to make the best of the idea, some of the best Italian talents (directors and cinematographers) were involved in the project and shot sequences of the film in their homes with their families.
The cast was made remotely, selected and then, again remotely made by the actors themselves following the directions received by the production with the help of their families.
Families from different Italian cities were involved: Trieste, Milan, Bologna, Rome, Bari and Naples.
The sequences has been shot using telephones, webcams and cameras.
Even the styling, where required, was done remotely: wardrobes of the house were opened, framed with the telephone while the costume designer, always from her home, selected the most suitable for the scene.
We would like to thank all the directors, all the professionals and all the families who made possible this project.
The professionals who participated in the commercial are:
Tommaso Bertè
Guido Notari
Matteo Bonifazio
Paolo Borgato
Diamante Cavalli
Davide Crippa
Marco De Aguilar
Cinzia Pedrizzetti
Leandro Ferrao
Maria Guidone
Danae Mauro
Fabrizio Notari
Ago Panini
Samuele Romano
Carlo A. Sigon