VODAFONE_LEARNING TOGETHER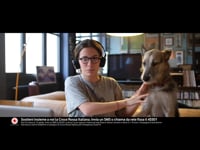 Agency UTOPIA
Prod Company AKITA FILM
Post Production YOU_ARE
Director CARLO A.SIGON
"VODAFONE_LEARNING TOGETHER" follows the great success of our previous work "VODAFONE_TOGETHER", the first tvc in advertising to be entirely shot remotely.
The commercial has been produced in compliance with the latest ministerial decree and following the hygienic recommendations of the Ministry of Health.
For the making of the film none of the production, crew or cast left their home.
Everything was made through the Vodafone network: casting, shooting, editing and post production.
The Director has shot the commercial at home with his familiy but also directing other relatives and actors in remote mode while in their homes.
This commercial has been shot using both telephones and cameras.